Fresh Codonopsis Lanceolata – Todok
Codonopsis Lanceolata – todok in Korean – is a root found in the deep mountains of Korea. 
Since ancient times, todok like ginseng in Korea has been sought after for its energy giving properties. 
In a vegetarian diet, todok is an important root nutrient which provides energy and stamina to the body. Todok is rich in calcium, saponin and fiber. It is an excellent winter food as it insulates the body from the cold, aids digestion and also protects the lungs. It has a unique woody fragrance and is chewy and fibrous. 
For this fall winter menu, we have specially flown in fresh todok from Korea and are presented in the following delicious dishes.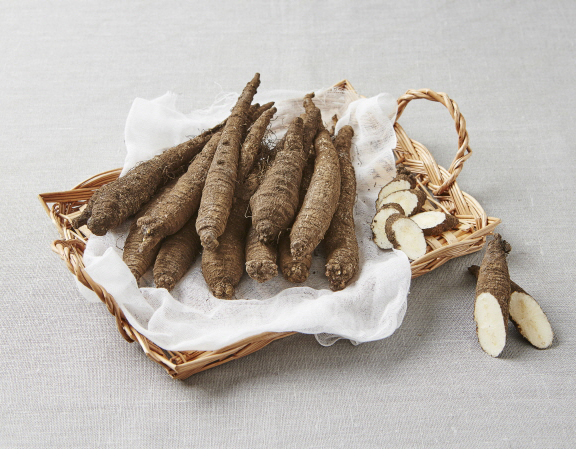 1.    Todok Salad  더덕 셀러드   18
(Fresh todok with watercress, cabbage and carrots in bean paste lemon dressing)
2.  Spicy grilled todok and asparagus on a stick 더덕 산적  29
3.    Grilled todok strips in ginger soy sauce  더덕 구이  29
4.    Spicy todok in stone bowl rice 더덕 돌솥밥  30    
(Spicy todok with assortment of vegetables in stone bowl rice)